Izrael Usdin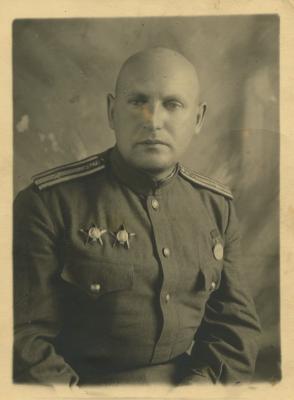 the photo above is dated 1944 in the Carpats
Israel(also Liola)Nachmanovich Usdin was Nachman Usdin 's son of a second marriage with Khana-Petia(also Gita)Yoffe (from a first marriage).He was born in Vihki in 1908 and killed during WWII on april 20,1945.His wife was Bernia Mikhailovna Berun.They lived in Sumi(Сумы).Mark, their son was born in 1939.
Mark Usdin
Mark and I had the same great great grand father Yankel Khaimovich Usdin,born in 1821.
On April 23, 2007 I received mail from David's son Mikhail, he lives in Israel and was born in 1969
here is the letter:
фото которое вы мне послали мне знакомо .
у отца дома есть точно такое же- это мой дед
его жена умерла два года назад и похоронена
в городе шдерот в израиле недалеко от моего дома
фото я пошлю позже
отец 68 лет работает глазным врачом.
женат второй раз . моя мать умерла в 1982 г.
мне 38 работаю в полиции уже 15 лет
имею высшее образование. разведен
есть две дочки - 7 и 8 .
живем в израиле с 1991 года
до этого жили на урале- челябинск
туда эвакуировалась во время войны жена деда - бела .
отец несколько раз был в вишках
где вы живете ?
посылаю свои фото " фото отца пошлю завтра
спасибо что ответили.
Mikhail Usdin
Translation of the letter:
The photo,that you sent me is very familiar to me.My father has exactly the same one .
His wife died two years ago and she is buried
in Shderot,not far from my house .
My father is 68 years old and a eyes doctor.He is married for the second time.My mother died in 1982.
I am 38 years old and work in the police.I have two daughters.7 and 8 years old.
We have lived in Israel since 1991.Before we lived in Ural.Tcheliabinsk.During WWII there was evacuation there.My grandfather's wife was Bella.
My father has been in Vishki several times.....
When I was in Latvia,I placed an ad in the newspaper "looking for Usdin" and I met Galia Koltune,whose grandmother married to Nachman Usdin,my great grandfather's brother(see above).
Two letters of Galia:
Translation:
I am Galina Rakhmuilovna Koltun.Maiden name Yoffe.I was born in 1947 .
My father was Rakhmuil Khaimovich Yoffe,born in 1905 in Vishki.
I don't know my grandfather Khaim's birth date.
My grandmother was Gita Yoffe(I don't know her maiden name)and of a second marriage Gita Usdin.
A son was born to them Izrael,Liola Usdin born in 1906-1911 in Vishki.
My grandmother's second husand was Nachman Yankelevich Usdin.
Translation:
All I know about the family Usdin.
I am Galina Rakhmuilovna Koltune.
In the childhood-Yoffe Galina Rakhmuilovna
My father -Yofe Rakhmuil Khaimoich born in 1905 in Vishki.
My grand mother had three children:
1.Yoffe Evguenia,born in 1900 in Vishki
2.Yoffe Rakhmuil(Emile)born in 1905 in Vishki
3.Usdin Liolia(Izrael)
All the children were doctors.
My uncle Usdin Izrael was killed in 1944.
He had a son Mark but I don't know if still alive.His wife is Bella Usdin.
They lived in Russia,in the town Tseliabinsk and then went to Israel.
That means that we must look for Mark Izrailovich Usdin in Israel(he is a doctor)
Izrael's handwriting
From the list of the soldiers killed during WWII

Gita Usdin was murdered in Pogulianski forest in 1941 f
Gita Usdin
A video that I took in Vishki.Galina is talking (1994)
May 2008.Galia Koltun talks about her Grandmother's murder
Volodia Gaga,an inhabitant of Vishki talks about the holocaust in the shtetl(may2008)
Other photos of Izrael Usdin (added in june 2008)