ЗАЛМАН-ЭЛИОКИМ УЗДИН,мой дедушка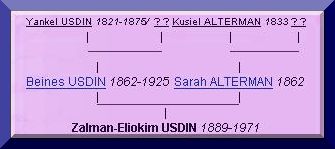 THE ORIGINS OF THE NAME ZALMAN
Hebrew:Shlomo,Salman,Zalman,Zelka,Zolkind
Yiddish:Shleyme,Shlieme,Shliome,Shlome,Shlomo,Salman,Salmon,Salmen,Shalmon
Yiddish nicknames:Shlaum,Shliom,Shlom,Shlomshe,Shlomshick,Shloym,Shloyme,Zalmenke,Zelmele

My grandfather is on the right
Zalman Eliokim Usdin in yiddish
(Giving to the newborn child the given name of his grandfather was a
normal usage among Jews.

The difference between Ashkenazi and Sephardic Jews is that
Sephardics always give to the first born the name of the paternal
grandfather even if he is alive. It is a form of honouring him.

The Ashkenazi only give the name after the person is dead. It is a
form to perpetuate his name.)from a Jewishgener
Eliokim(also Yankel)was my Grandfather's Grandfather,born in Vishki in 1821 and probably died in 1886 according to the headstones transcription
My Grandfather's eldest brother was Kuska (Kusiel)born in 1884.Kusiel Alterman was his maternal Grandfather born in 1833.So Kusiel Alterman died before 1884.
A video on my grand father
I know very little about my Grandfather's life in Latvia.He talked very little and has been complexed all his life by his accent and the fact he has had three fingers cut in a machine in the 1940ies.
He told me that he joined the white army* because he was in love with his first cousin.The both parents didn't accept the marriage.The young lady poisoned herself.
In 1917 he was prisoned in a village in Alsace Lorraine,which was ceded by France to Germany in 1871 after the Franco-Prussian war. It was returned to France after World War I, occupied by the Germans in World War II, then again restored to France.Alsace-Lorraine
He met my Grandmother Catherine Lambert in this village named Dalhain(Dalheim in german)and a son,my uncle,was born to them.Then they"emigrated "to Paris,my father was born in 1923 and they got married in the 1925ies.
*"I am sure that the rules
changed over time. Nikolai II was supposed to have been particularly
brutal. Occasionally the conscription for Jews was 10 per thousand
when their gentile neighbors were responsible for only 7 per thousand.
Occasionally various shtetls were "punished" by special conscriptions.
To the best of my knowledge, however, the choice of who should go was
left up to the locals. In the 1890's my grandfather, a teenager,
enlisted: his father had died and his mother could not afford to pay
the taxes on their property. His older brothers were married and had
children, so he went in order to earn the money to help his mother.
Some time after 1900 a younger brother fled to China to avoid being
drafted into the Russian - Japanese war."Stan Lipson
My Great Grand parents on my paternal mother side


These paintings of my Great Grandparents have been made in 1979 by my father
My Grandmother and her brother Alfred in Dalhain -1917-