Trying to find my Grandfather's
military records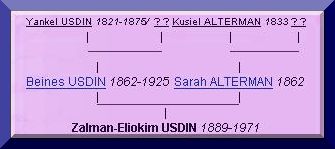 My Grand Father
"he wears a corduroy
tunic. Corduroy was used when other material was in short supply, as at
the beginning of the war when thousands of men came into the army. If
your grandfather was already in the army, he probably would have
regulation uniforms. I think that perhaps he was out of the army already
and in 1914 was a recalled reservist. This is likely when he was given
the corduroy coat, possibly. In this photo his cap has the Imperial
Russian cockade, so it is before the revolution."By Mark Conrad,a Russian uniform military expert

My Grandfather told,that he joined the army because he was in love with his cousin,of whom I don't remember the name.The both parents didn't agree for a marriage. The young woman poisoned herself.
He told,that he saw Czar Nikolai II in Riga.The czar visited Riga in July of 1910,which would mean that my Grandfather was already in the army at the age of 19(he was born in 1889) and in 1915.
Czar Nikolai II in Riga,1915
In August 1914,Russia mobilized more than 10 millions men but Russia managed to convey only 7 millions men on the front lines and only 1 million in first line.
According to Dr. S. Lipschitz on the Jewishgen page
Mobilization of Russian soldiers in Dvinsk .July/august 1914
"The Commander-in-Chief of the Russian Army, Nikolai Nikolaevitch, an uncle of the Czar, Nikolai II, decreed on April 28, 1915 that the entire Jewish population of Kurland should be expelled within twenty-four hours. The confusion, anxiety and panic of the Jews on that memorable day of April 28, 1915 can hardly be described. Jewish leaders appealed to the authorities, but all they could achieve was a postponement of several days."
Has my Grandfather been expelled or was he in the army before? I wrote to the Russian Military Archives in Moscow but didn't have any answer yet.
One thing is sure,he served in the Army during WWI.
Prisonners camp in Germany.My grand father is standing with a cap
"the K.G. on one prisoner's coat is
German for Kriegsgefangener (prisoner of war). The prisoners' clothing
is not Russian uniform, but issued by the Germans. The caps appear to be
Serbian, and are no doubt from Serbian army supplies captured by the
Germans or Austrians. The man with spectacles next to your grandfather
is a German.photo appears to show prisoners of war. For the rest, all I am able to
say is that the uniforms are from Russia at the end of World War One and
the Russian Civil War. Unfortunately, I cannot see any insignia to help
determine the exact regiment. During the time 1917-1920, conditions in
Russia were such that all kinds of military style clothing was worn, and
nobody could insist that soldiers adhere to regulation uniforms."

by Mark Conrad

My Grand Father is laying on the left
"The photo of prisoners has two French prisoners, one on the far
left and the other on the far right. In this photo your grandfather is
still wearing a Russian uniform. The man in the center with all the
lace on his cuffs and collar is a German officer or official"By Mark Conrad
October 5,2007 I received a mail from the Military Russian Archives following my answer about my Grand Father's military carreer.
ФЕДЕРАЛЬНОЕ

АРХИВНОЕ АГЕНТСТВО

К.Уздину

_______________ x _______________

ГОСУДАРСТВЕННОЕ УЧРЕЖДЕНИЕ

РОССИЙСКИЙ ГОСУДАРСТВЕННЫЙ

ВОЕННО-ИСТОРИЧЕСКИЙ АРХИВ

(РГВИА)

105005, Москва, ул. 2-я Бауманская, д. 3

тел. (495) 261-20-70

факс (495) 267-18-66

e-mail: rgviarchives@mtu-net.ru

____________________
Уважаемый господин Уздин!
На Ваш запрос сообщаем, что по данным научно-справочного аппарата архива сведений о службе Уздина Зальмана-Элиокима не имеется.
Для более углубленного поиска необходимо знать номер и название воинской части, в которой он служил. Без этих данных поиск не представляется возможным.
Начальник отдела
информационного обеспечения
и публикации документов В. М. Шабанов
Исп. Л. Ю. Соболевская
According to the archives of his naturalization he has been taken prisoner at the first beginning of the war,in November 1914.My father said he was a prisoner in a farm in Germany (and if you wish to know what he did there,Email me ! )
My uncle says,that he was a prisoner in Stiring-Wendel,a town north of France near Merlebach,which was German then.He worked in the charcoal mines and was also a " Dolmetschen"(interpreter ).I wrote to the Town Hall of Stiring-Wendel.They answered they have nothing concerning prisonners of WWI.
But on june 20th I subscribed to a WWI forum(Forum 14/18 )and on the next day(yersterday) a forumer, Mireille Salvi sent the following photographs of Russian prisoners in France during WWI

Below,a letter which tells about the conditions of life of the Russian prisonners in France.I'll translate the text when I'll have time(!)
Prisonners camps in south west Germany during WWI
Here he is,when prisonner with the "uniform"I think of interpreter but still with the Russian cap.
On the back of the photograph it's writen"Atelier photo Fernsner.Forbach" .I found some pics on the net and it's very emotional to see where he has been this photo made,thinking he walked on these streets
At the armistice he was sent to Dalhain(Moselle)with some other Russian soldiers to rebuilt the village,which had been partly destroyed during the war.He met my Grandmother,who was an orphan and raised her three younger brothers(see my site).The other Russian soldiers returned to Russia.My Grandfather stayed in France and never saw his family again,except his brother David.If he had returned to Russia he probably had perished in the holocaust as about 15 of his relatives.
Photos of one of the Dvinsk regiments
x: Hiller Grebetz
Hiller Grebetz on the left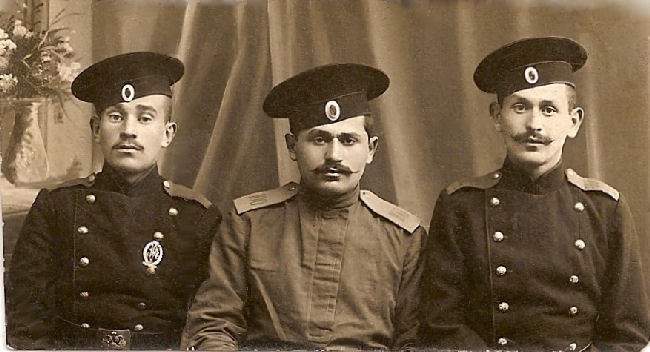 Hiller Grebetz on the left